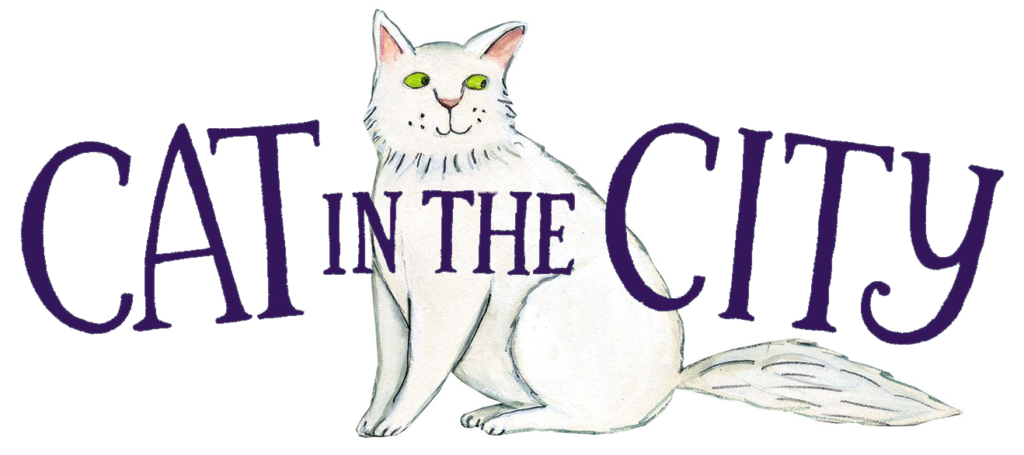 In 2009 the illustrator Jill Weber sent me a newspaper article about a cat named Pretty Boy who lived in the East Village and didn't belong to anyone—and to everyone in the neighborhood. He had just died at age 22. Jill wondered if there might be a story there for us to work on together again.
I was busy working on a biography of Wendy Wasserstein and tossed the article into a drawer. But I couldn't stop thinking about that cat….
That was the beginning of Cat in the City, published by Penguin's Dial Books for Young Readers in September, 2014. Jill and I hope you enjoy reading the book as much as we loved creating it.
REVIEWS FOR CAT IN THE CITY
FROM NEW YORK TIMES BESTSELLING TEAM
"He is just a stray white cat until he wanders into a dog park, follows a dog walker, and lands in a New York City knickknack shop. Fed by the owner and adored by the next-door hairdresser, the newly dubbed Pretty Boy finds himself sitting pretty indeed. Human friends, canine friends—what else does a cat need? Salamon's breezy but sophisticated chapter book has New York down cold—street musicians, subway rats, ridiculous rents, and all. …a subtle, dry style that should make this a hit with adults as much as kids. Weber's glossy, full-color spot illustrations have plenty of Greenwich Village quirk and find a charming balance with an animal-centered story line that is both naturalistic and believable. A sweet love letter to New York, cats, and what it means to be "home."

Booklist
"…beguiling characters…wry and worldly omniscient narrator….stylish spot illustrations are little love letters to the Big Apple that also capture the bohemian bonhomie of Pretty Boy's circle"

Publishers Weekly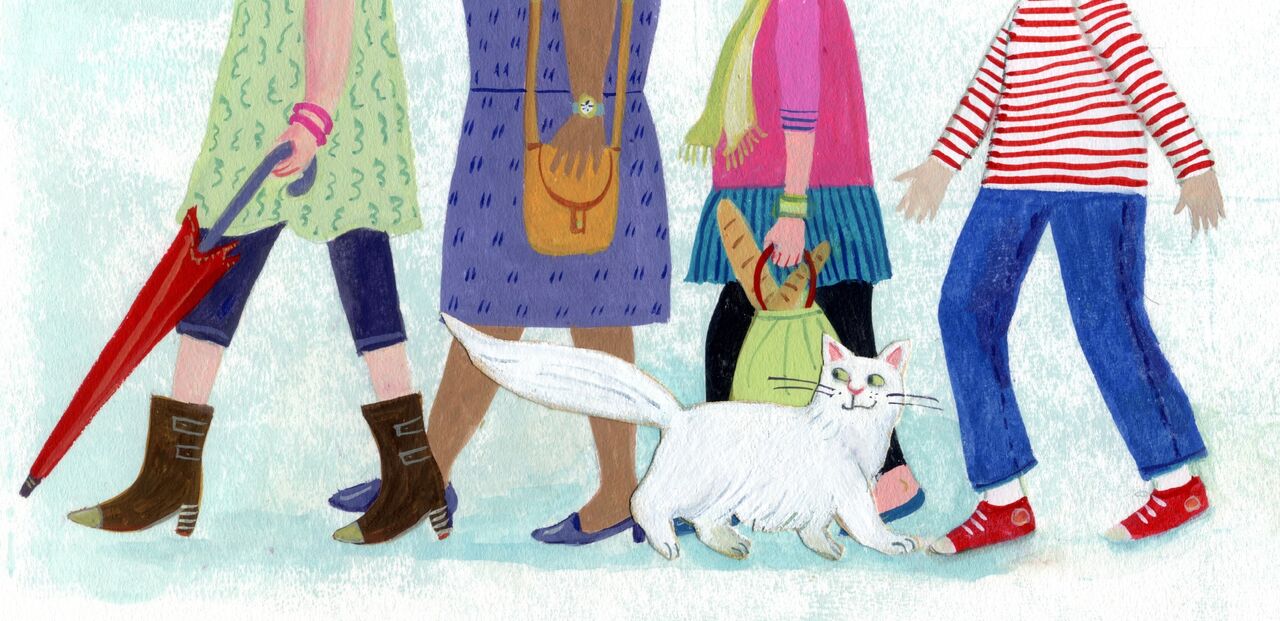 "With the theme of belonging at the forefront of the novel—from Pretty Boy's search for a home to Eli's struggle to adjust to urban life—the author successfully offers a story for young readers trying to discover their place in the world and their niche in life, and the flux and uncertainty that often goes with it. Weber's full-color illustrations brighten the pages, further adding to the charm of the book, and the ending, in which Pretty Boy finally finds a permanent, happy home, is satisfying. Bittersweet and meaningful, Cat in the City shows the solemnity and inevitability of change and the importance of finding a family and a home to call your own."

School Library Journal
'Intended for 8 to 12 year olds it is a wonderful story that children will enjoy, with a level of sophistication that speaks to adults. It is a story about friendship between animals, between animals and humans, a story about love and unexpected relationships. For city lovers, music lovers and landmark lovers, there is much that is a special feast. The author clearly loves all three and shares that special feeling in a way that is captivating…
"It's a very special story–so much harder to write a story about nice characters trying to be nice than to write about mean people being mean–but when it works it's pure gold."

Constance Vidor, Director of Library Service, Friends Seminary, NYC
"Fantastic read aloud book with an assortment of interesting and relatable characters. From the first chapter, Ms. Salamon creates an intriguing and fun story that kids of various ages can become attached to and make predictions about. Ms. Salamon read a few chapters to my first-grade class and despite the in-depth descriptive language and dialogue, the kids were engaged and interested in the various animals and their motivations as they navigate the city."

John Raynes, first grade teacher, The Peck Slip School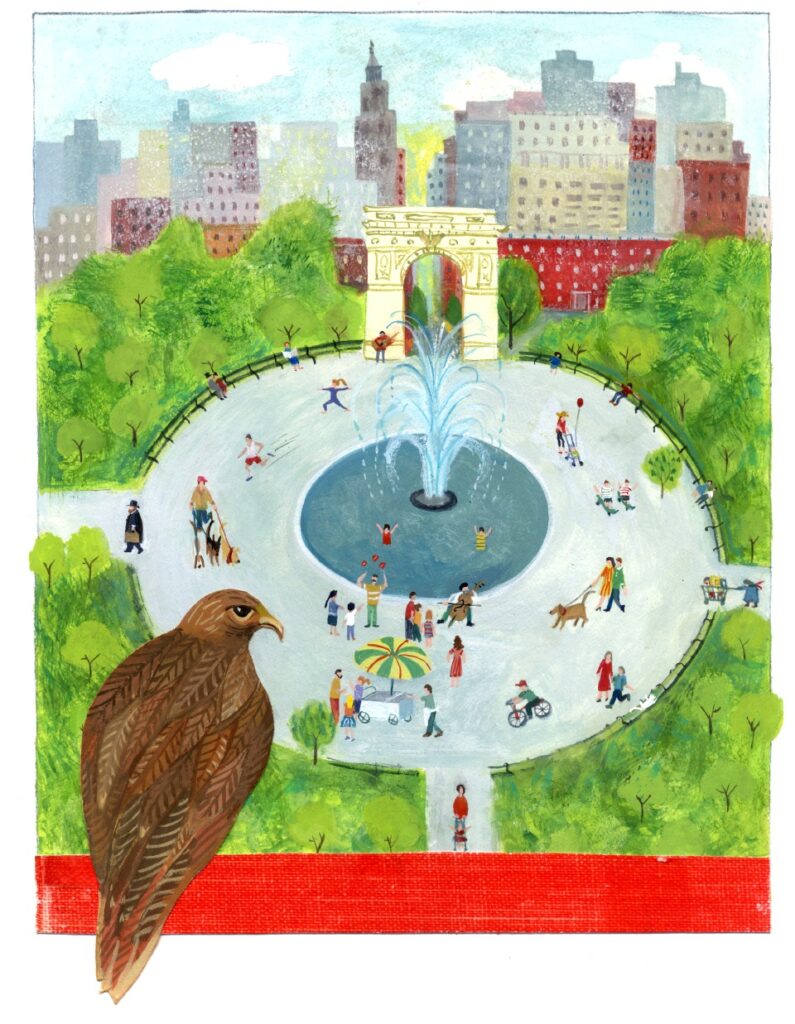 "CAT IN THE CITY was such a gem of a book to read! We greatly enjoyed reading it out loud in our school library and learning about New York City through the perspective of a small cat. This novel tied in perfectly to our curriculum. We found ourselves rooting for Pretty Boy, the handsome, but vain little kitty as he seamlessly sauntered into all the neighborhood shops and parks and homes in Greenwich Village. That little kitty even made his way into our hearts. After finishing this novel, we feel that Pretty Boy still inhabits a place in our hearts and we desire to hear more about his adventures traveling around Manhattan and visiting places like Washington Square and the New York Public Library. Our first, second, third and fourth graders really connected to this sweet novel and so many remarked that it was their favorite book. It certainly has the feel of a classical piece of children's literature, at it's finest level (Beverly Cleary's "Socks", Kate DiCamillo's "The Miraculous Journey of Edward Tulane" and "Black Beauty" and come to mind.). This novel belongs in every school library and classroom. It quite simply is the type of book that we want our students reading, one which will help them to develop compassion and empathy. It is also a book that demonstrates the wonderful connections that can made in a big city, through music, the arts and by getting to know your neighbors."

Robert W. Lamberson, Jr.
Illustrations © Jill Weber