As author, critic, and journalist, Julie Salamon has challenged conventional wisdom on diverse subjects, including filmmaking, murder, philanthropy, the Holocaust, and modern medical care. Through scrupulous detail and revealing stories, she has become noted for shedding new light on subjects we think we know. She has been interviewed frequently on national and local television and radio programs, including National Public Radio, Good Morning America and the Today Show. She has been the keynote speaker for numerous conferences, often to audiences of several thousand people, but also in classrooms, boardrooms and libraries. A sampling of these organizations: the Ivy League MIT and Stanford Conference for Corporate and Foundation Relation fundraisers; Health Care Leaders of New York; New York Academy of Medicine; the national convention of Boys and Girls Clubs of America. She has lectured at hospitals and medical schools nationwide, including Cedars Sinai Medical Center in Los Angeles, Massachusetts General Cancer Center in Boston, Narrative Medicine Rounds at Columbia University Medical Center. She has spoken at dozens of UJA groups as well as churches, synagogues, universities, medical schools and lower schools.
SUGGESTED TOPICS:
WENDY AND THE LOST BOYS is the biography of a fascinating woman who came to represent a powerful segment of the baby boom generation. Her life encompassed the transformational years of the Sixties and the devastation of September 11; she wrote about it all. Her story speaks to how the shifting role of women in American society affected the meaning of family. Her life in the theater provides fascinating discussion of what has changed for women in the arts, and what has remained the same. Her struggle to find artistic and personal identity still resonate, offering valuable life lessons.
HOSPITAL resulted from the rare opportunity Julie Salamon was given to spend a year observing the inner workings of Maimonides Medical Center in Brooklyn, a large, urban hospital where sixty-seven languages are spoken. She came to understand the multiplicity of demands on the system and on the people working within it: technological, cultural, spiritual, psychological, financial, bureaucratic–and, yes, medical. Even as she learned about factionalism and petty quarrels, as well as the industrial nature of modern medicine, she was struck by the desire of the medical people and staff to find meaning in their work–and by their desire to make the system better. Salamon addresses crucial questions about modern medical care, including: Is there a way to foster respect between medical professionals, and between doctors and nurses and their patients? How can hospital management help people working in the hospital improve systems that will make the experience less frightening and frustrating for patients and their families?
RAMBAM'S LADDER provides thought-provoking questions about the nature of giving. Faced with an onslaught of requests, how do we decide who to give to and how much? How do you instill the urge to give in your children? What is the difference between philanthropy and charity and does it matter?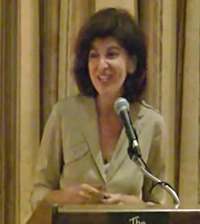 Audio/Video Interviews